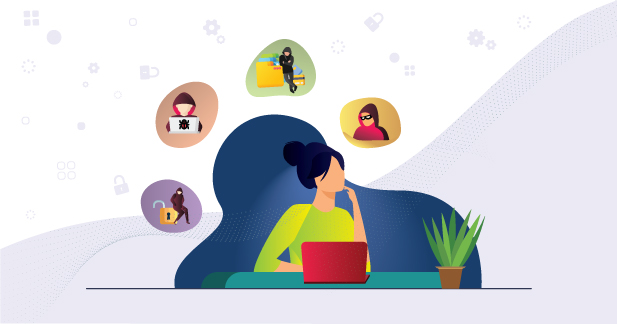 How Safe are You in Your Digital Life? And Why Should You be Worried?
August 1, 2021
3 minutes Read
Let's assume you are working on your dream body fitness project and enthusiastically following up XYZ app tracker. You are giving all the required information to that XYZ app since it controls your daily intake and workout plans. But did you ever presume what is occurring next? Your data is going global, maybe to thousands of other trackers who might use your data for targeted advertising or consumer profiling. According to The Washington Post, 5400 hidden apps can exchange data with third parties weekly (Fowler, 2019).
It's not overwhelming that the Covid-19 pandemic has changed our regular lifestyle. We are persistently relying on the tech world. From office meetings to socialization, everything is happening virtually. A virtual world is becoming a new world where millions of data are exchanged every moment. So, the question easily arises how safe are you in the age of digital surveillance? Especially when your everyday activities include dozens of mobile apps.
For instance, when you google for any medicine or insurance, the next minute, you will see dozens of advertisements from popular insurance plans. The apps running in the background of your mobile can do this trick.
The location-sharing feature can automatically transfer your data to any third company. When you sign up with any ISP provider, you give them the right to collect and distribute your data. In a report of Consumer Action," users can check the location markers Google has gathered on their My Activity page (https://myactivity.google.com/)." Moreover, users can view all the apps in their Google account that they already have given access to.
When you use a VPN service, you are not only encrypting the data, but also you are choosing not to share your private data with a third party. If you are speculating about which VPN app to use, I would suggest Symlex VPN. Websites that you visit will only see the servers and IP addresses of the Symlex VPN. By choosing Symlex VPN, you simply choose data security.
References:
Fowler, Geoffrey (2019, May 28). It's the middle of the night. Do you know who your iPhone is talking to? Retrieved from: https://www.washingtonpost.com/technology/2019/05/28/its-middle-night-do-you-know-who-your-iphone-is-talking/?noredirect=on
Location Tracking and Data Collection: Who's tracking U.S. consumers, how much control do they have over their location privacy, and what laws currently protect their consumer rights? (2019, May 19). Retrieved on August 10, 2020, from; https://www.consumer-action.org/downloads/Location_Data_Report_5-19.pdf.
---